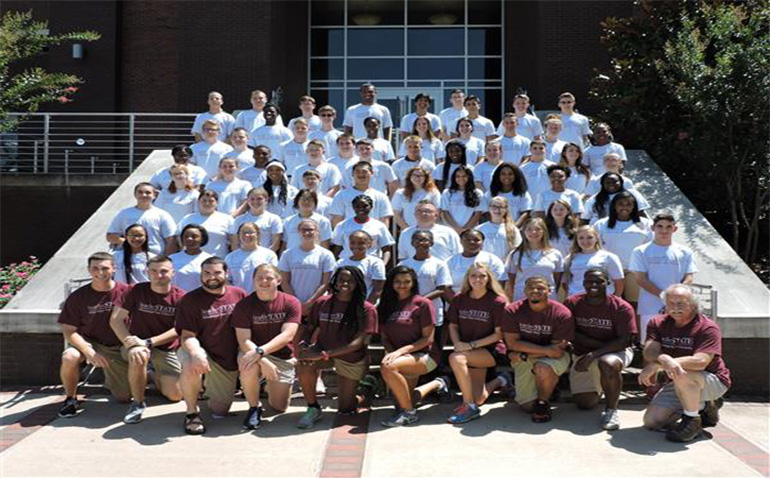 JROTC and STEM – Turbo Charging Mississippi's Public Schools
One year ago, the Jackson Public Schools (JPS) narrowly avoided a take-over by the Mississippi Department of Education.  The result was a shakeup at the top of JPS.  But while new leadership works to reinvent and reinvigorate JPS, it is worth highlighting an old program within JPS that excels at the highest level – the Junior Reserve Officers' Training Corps (U.S. Army JROTC). In the critical metric, graduation rates, JROTC achieved 95%, far surpassing JPS' 70%, Mississippi's 83% and the national high school rate of 84%.  That's strong!  But it doesn't stop there, JROTC cadets also outperform in daily attendance, grade point average, ACT scores and acceptance to institutions of higher learning.
Some history is helpful.  JROTC was founded in 1916 to provide a ready a pool of young men in the event America entered World War I.  In Mississippi, JROTC got its start at Jackson's Central High School in 1936. Since the program's early days of war preparation, the mission has shifted to citizenship, character development and successful living after high school.  There is no requirement for military duty.
JROTC's dramatic outperformance year after year doesn't happen by chance.  It takes a thorough plan, professionally executed with buy-in by both students and instructors.  If you ask Col. Willis, the JPS JROTC Director since 2004, he will point to the instructors as the biggest difference maker.
All instructors are retired military with 20 or more years of service.  After rigorous vetting and certification by the JROTC Cadet Command in Ft. Knox, instructor candidates are interviewed and hired at the local level.  While the Army is best known for its actions while in harm's way, there are few institutions that have a bigger commitment to education and training.  An officer or non-commissioned officer can easily spend a quarter to a third of their career as a student or instructor in a wide variety of military or civilian schools.  But what instructors bring to the JPS classroom goes far beyond education credentials. They bring a can-do, purpose driven culture that comes from being part of something much bigger than themselves. They bring experiences from lives lived across the world, and in some instances, under the most adverse of conditions. And they bring organizational values including structure, ethics, discipline, accountability, mutual respect and a passion for success.  It turns out that these values and attributes, deliberately applied over an extended period, can be a powerful antidote to the chaos that afflicts our inner cities and so frustrates their educational systems.
Another critical difference maker within JPS' JROTC is the impressive array of extracurricular programs that Col. Willis and his team have developed and host each summer.  The primary focus is STEM (Science, Technology, Engineering and Math) related camps to include JSU's Nanotoxicity Computational Chemistry Institute (30 days), National Flight Academy at Pensacola Naval Air Station (6 days), Mississippi State Engineering/Geosciences STEM Camp (5 days), William Carey Health Careers STEM Camp (5 days) and Southern Miss Computer Science/Cybersecurity Camp (2 days).  In addition, cadets participate in Boys State, Girls State and Leadership Reaction Course Training at Camp Shelby.  For many inner-city cadets, these are eye opening and horizon expanding experiences.  The success of these summer programs was recently confirmed by Col. Michael Stinnett, National Director of JROTC who toured the JPS high school units in late March:
"Since I've been to Jackson, I've weighed every other place against you guys. Jackson as a city may have its challenges economically, but you guys have put together the best JROTC program I've seen yet, and based on my expectations for all of the program off of what I saw you guys have done and are doing. It really stands out and your Cadets are reaping the benefits!"
Big bang for the buck.  What's the tab for JROTC and who picks it up?  For the seven JPS high schools the total cost is $5.25 million. That covers 26 classroom instructors, 4 staff personnel, uniforms, supplies, activities, some field trips, operations and maintenance.  The Army picks up $2.64 million and JPS $2.61 million or about one percent of the total JPS budget.  If you do the cost benefit analysis, JROTC may represent the best education value in America today.
But, JROTC is more than just a Jackson phenomenon.  General Colin Powell, who served as the nation's top general (Chairman of the Joint Chiefs) and the nation's top diplomat (Secretary of State) had this to say about JROTC in his 1995 book, My American Journey,
 "Inner-city kids, many from broken homes found stability and role models in Junior ROTC. They got a taste of discipline, the work ethic and they experienced pride of membership in something healthier than a gang….  College-level ROTC quite literally made my life.  The junior program can provide a fresh start in life for thousands of endangered kids, particularly those from minorities living in crime – plagued ghettos. Junior ROTC is a social bargain,"
In his 2012 book, It Worked for Me – In Life and Leadership, General Powell concludes with this thought,
"You can leave behind you a good reputation.  But the only thing of momentous value we leave behind is the next generation, our kids – all our kids.  We all need to work together to give them the gift of a good start in life."
Wise counsel from a wise man.
Are there expansion opportunities for JROTC within JPS?  Yes indeed, and they need to be pursued.  JROTC works.  It works because it brings the right capabilities and a tough love commitment to critical tasks that are vital to the long-term future of JPS and Jackson.
*Podcasts with Col. Willis on Jackson's JROTC program can be found on our website here.