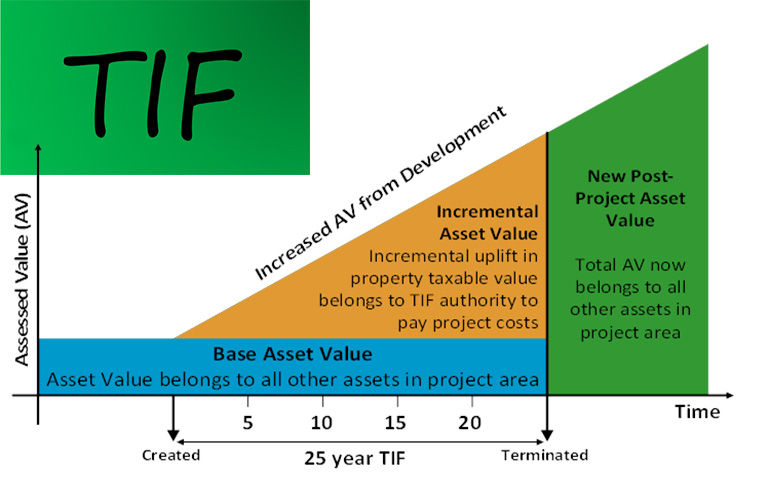 City and County Economic Development – Tax Increment Financing (TIF)
City and county governments are always trying to grow their sources of tax revenue to sustain their operations and one way they can do that is to encourage economic development with several tools.
One of those tools is called tax increment financing or TIF. The way it works is the city issues bonds for infrastructure improvements required for a large development.
The city splits the property tax revenue from the site into two streams. The first is the base rate which is the basic assessment of the property without the development that is split among the municipality, the county and the local school district.
The second, the incremental, is the increase in value that is directed solely to the granting locality to use to finance infrastructure improvements.
The hope is that the added economic activity will generate greater tax revenues in both property and sales taxes and eventually the bonds will be paid off.
Not all of these plans work. A development in northern Madison County that cost $1.25 million in TIF bonds ended up costing $2 million after the planned development on the private property didn't happen. Because of the deal's terms, the county was responsible for paying the incremental rate to retire the bonds. The county and the bond issuer had a prolonged legal battle that just ended with a settlement this March.
Another problem with TIFs is they are a way for one municipality to lure an existing business from another, thus adding to their tax rolls. Ridgeland has used TIF financing to lure a pair of luxury car dealerships from Jackson just a few short miles on Interstate 55 to Ridgeland. Thus Ridgeland gains tax revenue at Jackson's expense.
In Southaven, a developer will receive a $5 million TIF financing package starting this year to help with his $200 million mixed-use development. His company made a campaign contribution in 2017 to Southaven Mayor Darren Musselwhite.
There's nothing wrong with cities aiding in economic development. While TIF financing is often an excellent tool for encouraging growth, there can be pitfalls such as development deals that don't reach their goals, the poaching of businesses from nearby localities and the appearance of corruption when a developer contributes to the campaigns of policymakers who approve the financing.