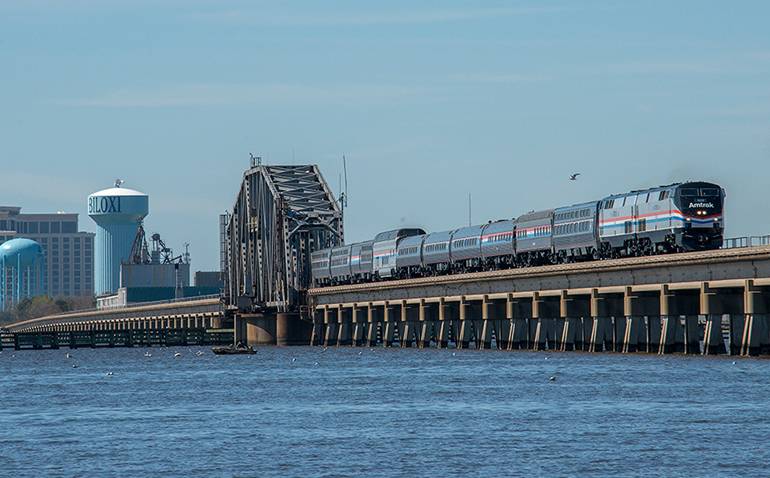 Mississippi could soon be getting a passenger rail route between New Orleans and Mobile, Alabama, with most of the stops in the Magnolia State.
The downside is taxpayers, at both the state and federal levels, will heavily subsidize the Amtrak route. The federal government will provide more than $33 million with Mississippi taxpayers adding $15 million drawn from either BP oil spill settlement money or appropriations from the Legislature and Louisiana committing another $10 million.
Alabama is hesitant on whether to provide its share, likely less than $4 million.
Amtrak will provide some additional funds for right of way acquisition or improvements, according to its budget request.
Speaking of the quasi-public rail company, Amtrak is asking Congress for a $1.8 billion subsidy for this budget cycle, boasting that it had the lowest operating loss, $171 million, in its history and increased its revenue by $3.39 billion. The company has never made a profit in its entire history since 1970.
Advocates of the "spend money to make money" approach will tell you that building a regional rail route between Mobile and New Orleans will be a boon to the economy of the Gulf Coast.
What they don't tell you is that many of Amtrak's routes are additionally subsidized every year by taxpayers in the states as well. Alabama, Louisiana and Mississippi taxpayers will likely have to fork over annual subsidies to keep the trains rolling.
A new Gulf Coast route might enjoy an initial boost in business for the first year or two it's in operation, but when the novelty wears off, taxpayers will be required to fill the void in funding by subsidizing largely half-filled trains.
In Europe — where countries like France and Germany are smaller than Texas — rail travel is highly subsidized and uses specialized trackage for high-speed passenger trains that isn't shared with freight operators. Japan has a similar situation where relatively short distances make air travel cost ineffective.
In the U.S., Amtrak owns very little of the track it uses and must lease it from freight operators — like CSX, which owns the track between Mobile and New Orleans — or other passenger rail operations.
Most of Amtrak's operating revenue is generated by its commuter rail operations in the Northeast, which accounts for 55 percent. The state-supported routes are 22.45 percent, while the long-distance routes, two of which cross Mississippi extensively, account for only 22.55 percent of Amtrak revenues.
The bottom line is passenger rail is at a competitive disadvantage in a country as large as the United States thanks to cheap air travel (many airline tickets are cheaper on long routes) and a superior interstate system.
Taxpayers would be better served by not subsidizing a service that will never turn a profit.
To sign up for updates from BPF, subscribe here.