By Guest • Friday, March 17, 2017 – 14:11
This is a guest post by Dan Zegart of the Climate Investigations Center
With builder Southern Company still promising that the Kemper power plant will go online soon, a group of key engineers and managers who work on the plant's so-far-inoperable gasifier has left the company.
Earlier this month, Southern Company posted a cluster of want ads on its web site for a "gasification owner," a "refinery technician-mechanic," a "refinery technician-entry level," and a "gasification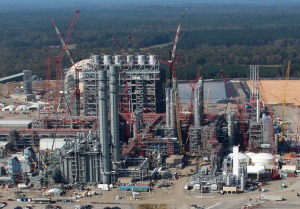 technician."
Those four positions are located at the gasification island, home to the patented TRIG technology developed by Southern Company and Kellogg Brown & Root that is supposed to turn lignite coal from an adjacent mine into a cleaner burning syngas to produce electricity. The project's twin gasifiers, however, have been troubled by frequent shutdowns and lengthy repairs.
The plant's operations manager, one of the most senior positions at the facility, tasked with day-to-day oversight of the entire power plant and its roughly 100 permanent employees, was also for hire until the posting was pulled from the Southern Company website over the weekend.
"The Operations Manager will be responsible for providing leadership for the Kemper County Generating Facility," according to the job summary, and must foster "reliable and efficient plant operations of the lignite processing, syngas production, gas cleanup, chemicals production and power generation units."
If the history of the first-of-its-kind plant so far is any guide, it appears that relentless pressure by Southern Company to meet unrealistic construction and operations milestones paired with the failure of the coal gasification equipment to work for more than a few days at a time, and then at only a fraction of rated capacity, has led several demoralized engineers to leave what they see as a sinking ship.
The Mississippi Power Company, the Southern Company subsidiary that operates the plant, notified investors today that the plant will not go online as promised in mid-March but offered no new date, saying that will be provided in a company status update in early April. This time MPC blamed "certain tube leaks in one of the syngas coolers for gasifier "A" which caused "an outage on gasifier "A" to perform necessary corrective actions."
A New York Times expose last July described what were apparently deliberately faked company estimates of when the plant could begin producing electricity – its commercial operating date, or COD – and correspondingly false estimates of how much Kemper would cost to build, first estimated at $1.2 billion and now at $7.1 billion. These allegations also figure into an SEC investigation and a series of lawsuits by investors, customers and at least one company involved with the project.
Southern Company chief executive officer Tom Fanning has called the New York Times' allegations "garbage" and claims Kemper will yet perform as promised.
But Fanning also admitted last month that a company "Economic Viability Analysis" found that the plant can't profitably generate electricity from coal and is only economical operating on cheap natural gas. A few weeks later, the credit rating of Southern's Mississippi Power Company subsidiary, owner of the plant, slid to junk status.
With help from engineers familiar with the plant's design, the Climate Investigations Center looked closely at a series of technical reports by an independent watchdog that seem to indicate that the plant and the technology it represents are in deep trouble and may never work properly.
In Meridian, the city nearest Kemper, the scuttlebutt is that a number of Kemper engineers and managers are looking for a way out of a project that increasingly seems ill-fated.
Low morale at Kemper Nothing New.
The New York Times piece featured audio of conversations recorded between plant engineers and managers commiserating about sloppy construction, non-existent quality control and inadequate safety measures as workers raced to meet deadlines.
In one recording, then-Operations Manager Tim Adams complained to a colleague that inspections that were to verify that the final construction of the plant's equipment actually matched the original design were so inadequate that "we threw a damn fit over it."
"They were just trying to hit milestones," said Adams in the August 2014 recording. "They weren't focused on all the other stuff. That wasn't their marching orders."
Seven months after that conversation, Adams quit and joined a petrochemical refiner in Alabama. Two years later, the position has apparently turned over again.
Aside from the operations manager, the gasification technician, according to the web site, is charged with operating and maintaining "the gasification power train, syngas clean-up, chemical product production, [and] Combined Cycle" and is to "monitor and troubleshoot the gasification processes and respond to emergency situations."
(The combined cycle island, in contrast to the gasifier island, is where the syngas would be burned in a pair of combustion turbines to generate electricity. That part of the plant has been producing electricity since the summer of 2014, but on natural gas.)
The gasification owner is "directly responsible for providing tactical and strategic planning…[for]…all unit operations from lignite processing, syngas production, gas cleanup, chemicals production, and power generation," according to Southern.
The gasification owner and gasification technician jobs are management. The refinery technician – mechanic position is a "multi-craft" union job that involves maintaining the plant's equipment, and that requires "in-depth knowledge and understanding to operate all traditional… Integrated Gasification Combined Cycle or Petro/Chemical plant equipment."
The refinery technician – entry level, also union, "performs plant operations, maintenance and instrumentation duties."
Repeated calls over a period of days to Mississippi Power seeking comment about the job postings and other issues raised in this article were not returned.
To continue: https://www.desmogblog.com/2017/03/17/brain-drain-engineers-and-managers-flee-southern-company-troubled-kemper-clean-coal-plant